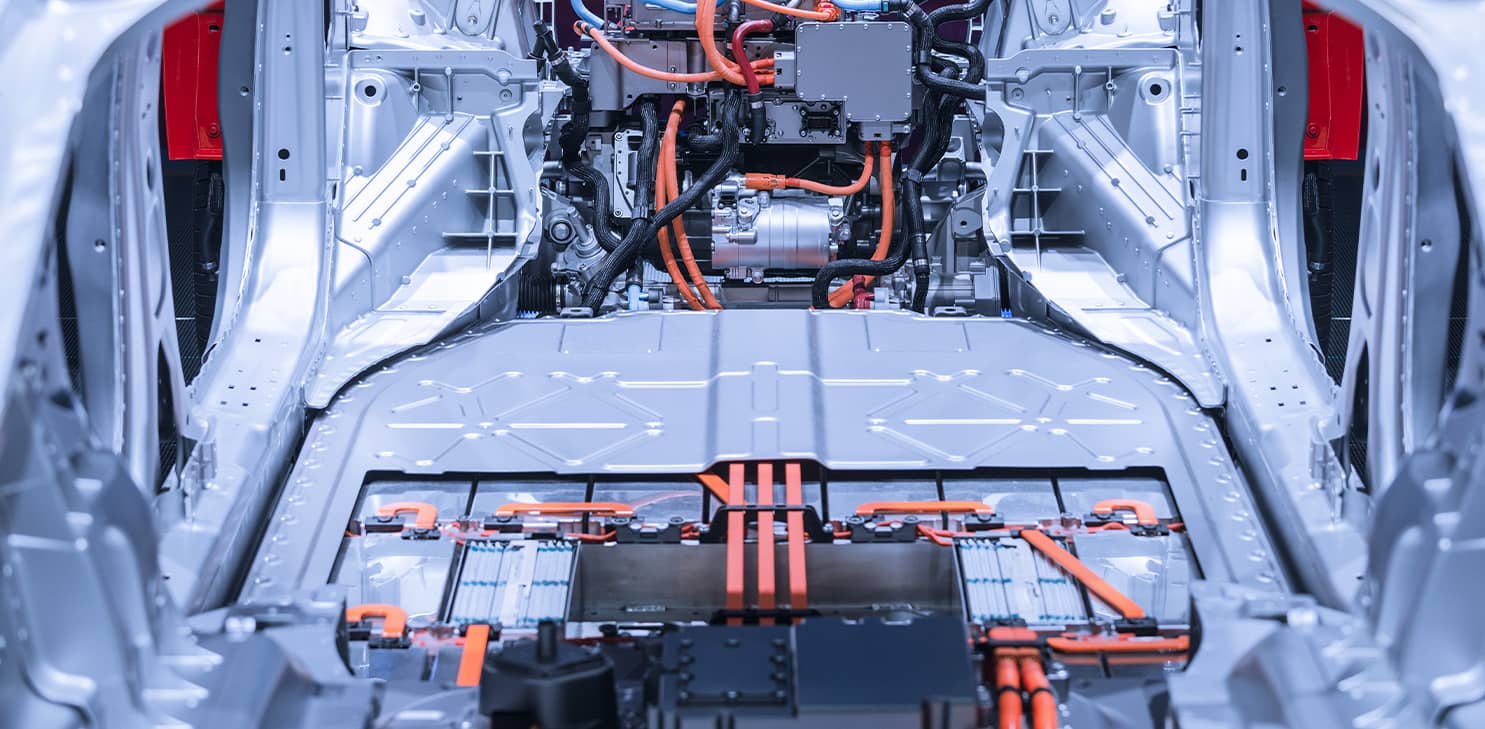 AUTOMOTIVE AND E-MOBILITY
With the increasing popularity of electric vehicles, the automotive industry is witnessing the emergence of new applications. Our expertise, cutting-edge machinery, and extensive experience with ultrasonic technology enable us to achieve stable application processes.
Ultrasonic welding in the automotive industry
Ultrasonic welding has become a vital process in automotive manufacturing, facilitating the seamless joining of plastic components, ensuring structural integrity, and enhancing overall product performance. Whether it's bonding interior trim components, securing electrical connectors, or assembling complex modules, our ultrasonic welding solutions provide robust and durable connections that meet the stringent requirements of the automotive industry. Partner with us to unlock the full potential of ultrasonic welding, streamline your production processes, and elevate the quality and performance of your automotive products.
Busbar manufacturing
The rapidly developing field of e-mobility is filled with exciting challenges. Take them on with the confidence of excellent partners having your back. Let us power up your solutions. Focusing on busbars for battery modules. Our capabilities include a complete stack of processes required to manufacture busbars.
Laser cutting & engraving

By utilizing laser cutting, we are able to achieve very precise cuts, while also working fast and staying flexible, as we can treat a range of materials without exchanging any tools.

Laser engraving allows us to produce durable, high-contrast markings, using a non-contact process.

This technology allows us to mark products with serial codes or QR codes, to ensure complete traceability throughout the production process.
Metal forming

STAMPING

Feeding a metal sheet through a sequence of stamping stations, we can quickly and efficiently stamp out large series of pieces, cut and bent in the
required shape and size.

With each step performing a different cut, bend, or punching operation, we can produce precisely shaped metal parts with high repeatability. Making it
the perfect choice for busbar production.

MILLING

We use precise CNC machining operations to create terminals according to the specifications of the required standard.

BENDING

In busbar manufacturing, bending is utilized to create the necessary configurations for electrical connections and routing within electrical distribution systems. Busbars, which are used to conduct and distribute electrical power, require precise bends to fit specific installation requirements
Ultrasonic welding

The quality characteristics of the ultrasonic welding processes are lower contact resistance and low mechanical and thermal stress during the welding process. Making it the perfect choice for joining terminals, connectors and
braided copper cables.


Further benefits are low energy consumption and no requirement for additional material. More importantly, 100% testing is built into the ultrasonic welding process, if for any reason the ultrasonic joint is not being formed, the energy dispensed will not be absorbed, which the welding apparatus will register and immediately reject the part.
Surface treatment

Busbars are typically made from corrosion-resistant metals such as copper, brass, or aluminum. They are susceptible to oxidation, which can influence their conductivity and negatively impact their performance.

A surface treatment process like tin electroplating or nickel electroplating
prevents oxidation and ensures consistent conductivity and extended lifespan.
Testing

Quality is one of our core values and one of the primary concerns in production. Our laboratory enables us to constantly test the technical and technological efficiency of products with the help of modern measuring
devices, thereby ensuring that we meet our clients' highest
quality and reliability requirements.
For more in-depth information on our busbar manufacturing and other metal-related services, download our Metal 2023 – services overview prospect.
Ultrasonic splicing for cable harness manufacturing
With continuous development and increasing capability, ultrasonic remains the best available joining technology for wire splicing, which makes it invaluable to the automotive industry, especially in the pre-fabrication of wire harnesses. With the rough environmental conditions automobiles face throughout their service life, fault-free connections are crucial.
Ultrasonic splicing is recognized for its technical and financial benefits. It allows for precisely placed bonds with low electrical resistance, great heat resistance, and excellent corrosion protection while staying very cost-effective.
Thanks to our many years of experience, we have developed the capability to work with a wide range of cable cross-sections and cable harness configurations. The most modern equipment enables us to carry out the precise processes of cable harness production.
Ultrasonic wire splicing specifications
Let's work together on your
next project
Feel free to reach out with any questions or comments you might have and our team will make sure to get back to you as soon as we can.